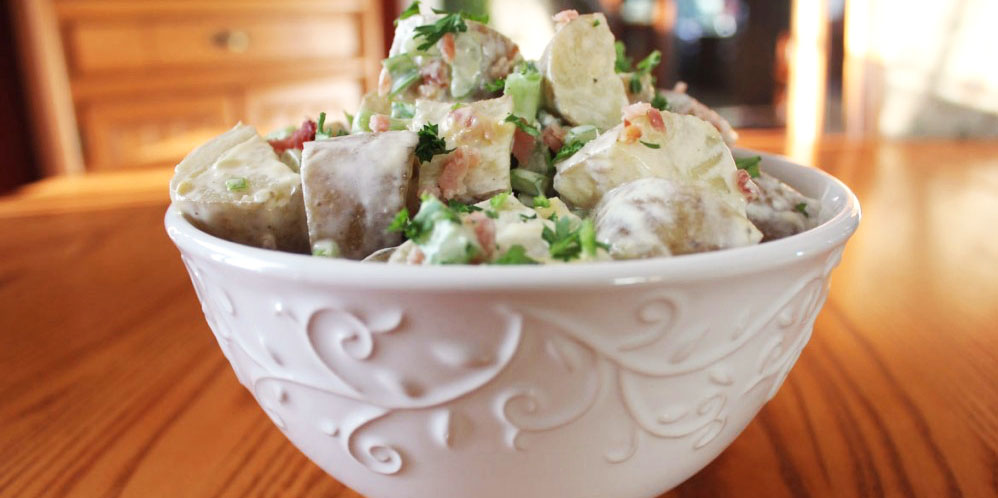 01 Apr

La Gabrielle de l'Île d'Orléans potato salad

Servings 4
Prep. 20 minutes
Cooking time 10 minutes
Ingredients
8 La Gabrielle de l'Île d'Orléans potatoes (approx. 1 lb.)
2  celery stalks, diced
2 slices of bacon, cooked and chopped*
2 green onions, chopped
¼ cup (60ml) of mayonnaise (or one part natural yogurt)
2 tsp (10 ml) of Dijon mustard
Salt and pepper to taste
Preparation
Cut the potatoes in quarters, do not peel. Add potatoes to a large pot with cold salted water, bring to a boil and cook for about 10 minutes or until tender, but still firm. Drain, transfer to a salad bowl and cool.
In another bowl, combine all ingredients. Season. Refrigerate before serving, allowing time for the flavours to marry. Add parsley just before serving.
* Note: For a vegetarian version, substitute with paprika to taste.
Variation: Use 3 kinds of potatoes, La Gabrielle, La Raphaëlle . Top with goat cheese and lemon zest.
---