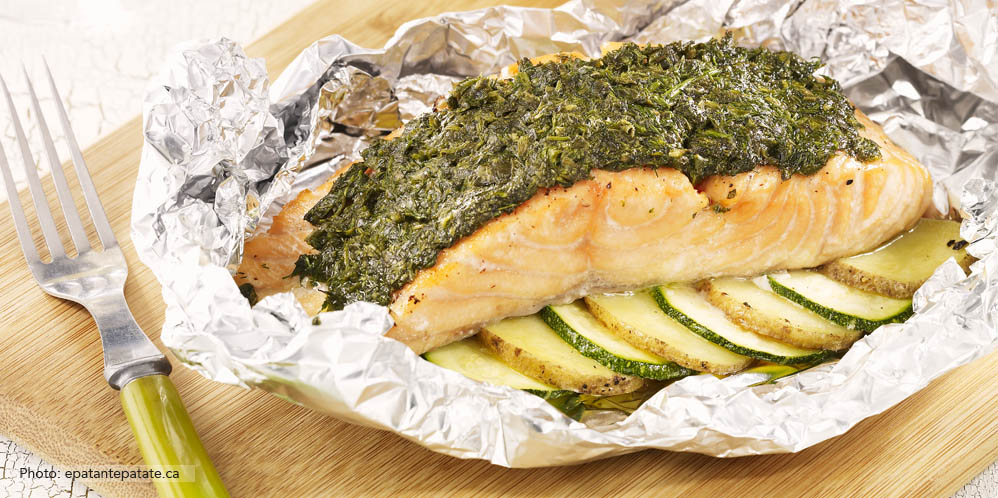 01 Apr

Salmon and potato papillote

Servings 2
Prep. 10 minutes
Cooking time 20 minutes
Ingredients
2 (300 g) yellow-fleshed potatoes (approx. 300 g or ¾ lb.)
½ zucchini
2 salmon filets of 125 g (approx. ¼ lb) each
20 ml (4 tsp.) pureed sorrel*
Salt and pepper to taste
Preparation
Preheat barbecue.
Peel potatoes and cut into (4 mm or 0.2 inch) slices. Wash zucchini and cut into slices.
Take two sheets of aluminium and coat with anti-stick cooking spray (like Pam).
Place the potato slices leaving room between each for a zucchini slice. Season to taste.
Place the salmon filets on top of the layer of potatoes and zucchinis and then season again.
Add a line of sorrel puree* on each filet.
Close the papillotes and cook on medium heat for approximately 20 minutes on the barbecue.
* Note: You can find the sorrel in fine grocery stores ("Tousain" brand).
Variation: You can replace the sorrel with a dill puree (frozen) or with pesto.
Source: "Épatante patate" website