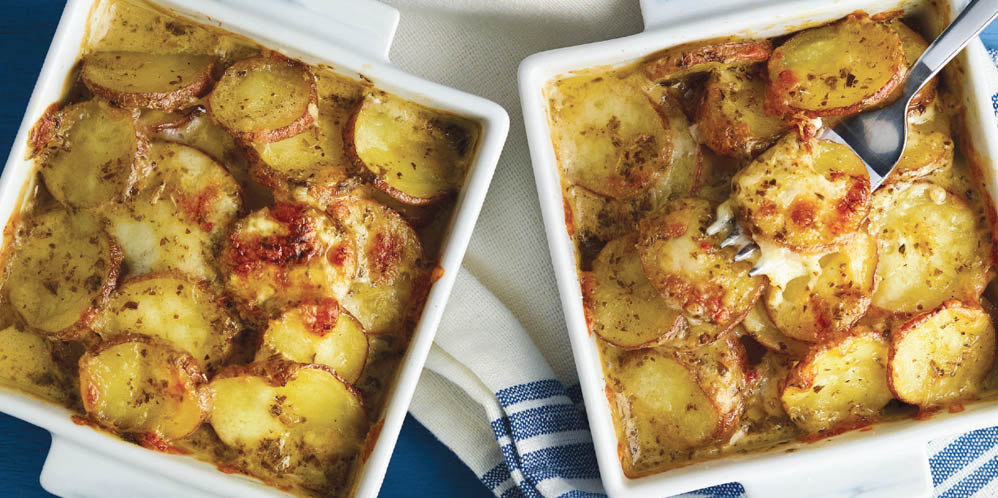 01 Apr

La Raphaëlle Italian scalloped potatoes

Servings 4 to 6
Prep. 20 minutes
Cooking time 60 minutes
Ingredients
15 ml (1 tbsp.) butter
1 clove of finely chopped garlic
907 g (2 lb) of La Raphaëlle de l'Île d'Orléans potatoes cut into thin slices
25 ml (5 tsp) of Balatti Italian Bouquet*
90 ml (6 tbsp.) butter
250 ml (1 cup) of grated medium cheddar
250 ml (1 cup) of 35% cooking cream
Preparation
Preheat the oven to 200°C (400°F).
Place garlic in individual gratin dishes or an 8″×8″ dish.
In a bowl, mix the milk with the Balatti Italian Bouquet*.
Place a layer of potato slices in the dish. Season with salt and pepper. Top with 2 tbsp. of the Balatti Italian Bouquet* infused milk.  Add 2 tbsp. of grated cheddar.
Repeat this step 4 times. For the fifth layer, pour the cream over the layers and top with the remaining cheese.
Bake for 1 hour.
*Note: "Balatti Italian Bouquet" is a mildly spicy seasoning mix made from a gourmet blend of aromatic herbs reminiscent of aromas from an Italian countryside.
Source: Aliments du Québec